:: Upcoming Classes and Workshops ::
2019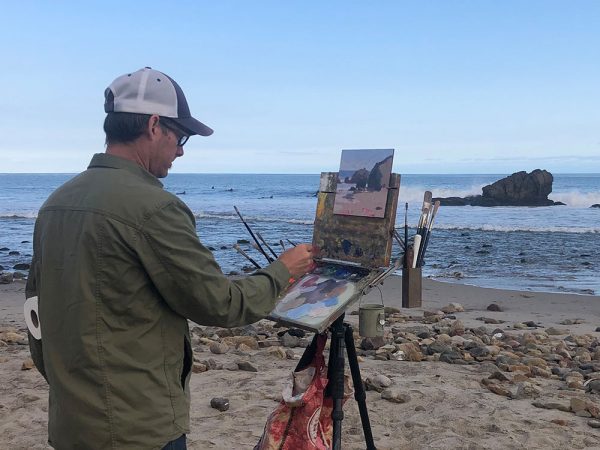 Two-Day Workshop: Painting the Malibu Coast
Malibu, California: October 5 – 6, 2019
9am – 5pm each day
$250
Limited to 12 participants (FULL — contact me to join the waiting list)
Each participant will receive a free 6″x8″ linen canvas panel from SourceTek.
Come join me for some coastal painting in Malibu! We will spend both days painting outdoors at Leo Carrillo State Beach. It's a beautiful location with plenty of subject matter to keep us busy. There are restrooms and free parking is available along the Pacific Coast Highway. (Parking in the Leo Carillo parking lot is $12 per day.)
Malibu has some of the most dramatic coastline in Southern California and it's just an hour drive from Ojai. In this beautiful environment, we will discuss the fundamentals of plein air painting and focus on atmospheric perspective and coastal color choices. I will demonstrate my painting techniques for the group and also spend as much time as possible individually with each student.
I can help with hotel recommendations (and possibly deals for one of Ojai's hotels) if you're coming from out of town. I plan to drive from Ojai both days. (About an hour drive.) If you'd like to stay closer to the workshop location, there may be camping available at one of Malibu's campgrounds or you can look into Malibu's hotels and vacation rentals. Hotels in Oxnard or Ventura might be good options as well.
Bring a lunch with you both days so we can picnic together and enjoy the coastline. Workshop size is limited to 12 students. We will be painting in oil.
Participants will be eligible for 20% off the regular price of my instructional DVD: Steps for Successful Plein Air Painting.
I hope you'll join me! Questions? Ready to register? Write me through my contact page or call me at 805-317-9634.