I've just returned from participating in the 2nd Annual Kern County Plein Air Invitational, organized by the Arts Council of Kern. I had a great time, saw some paintings go home with new collectors and received two awards for my work.
I joined 14 other invited artists in painting throughout Kern County, California, which is quite large and includes a variety of terrain. Beautiful expanses of agriculture, rugged mountain slopes, rocky rivers and poppy-covered hillsides dotted with oaks and sycamores. If nothing else, a plein air event like this provides the chance to spend some time painting in new and unfamiliar areas, which I always find exciting. Plus, it's a great chance to catch up with artist friends and make some new ones.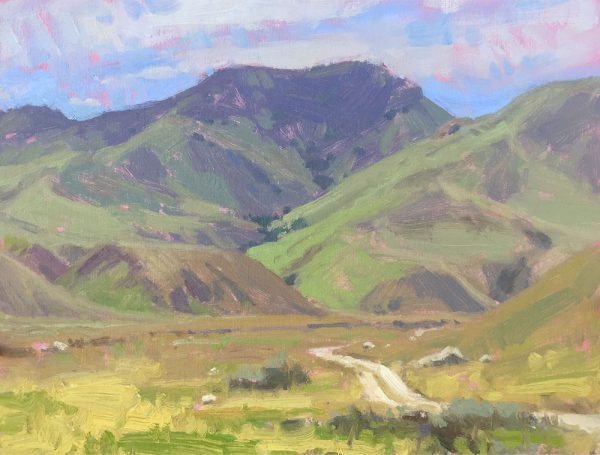 The event organizers arranged host housing for the artists with local families. Jan and Tim Thomson opened their beautiful farm in Buttonwillow to me, Paul Kratter and Michael Obermeyer. It was a pleasure getting to know the Thomsons. Thank you, Jan and Tim! Paul, Michael and I enjoyed swapping stories and weighing in on each other's work — they are both great painters. When you've spent enough time painting outdoors, you always end up with some crazy stories to share. (My painting umbrella attacked me this trip, but that's a story for another time….)
Most plein air events have a specific number of days scheduled for painting. Some shows are a week long, some even 10 days. This event was on the shorter side, with only three painting days scheduled. As you can imagine with such a large painting area, it wouldn't be difficult to spend all of your time driving around deciding where to paint. So you do have to be prepared in advance to quickly choose painting spots. For this event, it helped to have been given special access to paint two particular locations — Wind Wolves Preserve and Tejon Ranch — both well worth the visit.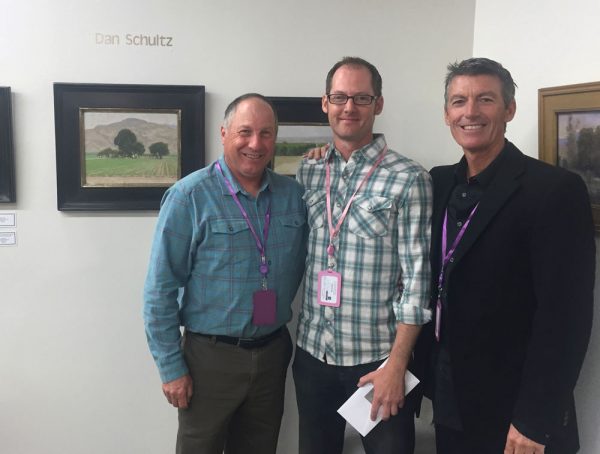 Each artist was asked to provide four paintings produced during the event to hang in the show. The opening reception was held at the Bakersfield Museum of Art, a beautiful venue. After a delicious dinner provided by Chef's Choice Noodle Bar, the award judge, artist Marcia Burtt, announced her award choices. I was honored that she chose my Kern County Citrus (8×10 inches, oil on linen panel, pictured above) painting as the First Place winner. She also gave an Honorable Mention to my painting Wind Wolves Preserve (9×12 inches, oil on linen panel). Sales that evening were great too. It's always gratifying when people respond well to the work that goes into an event like this.
Photographer Brandon West was hired to do some photography and video work with the artists the day we all went to Tejon Ranch. Brandon put together a fantastic slide show including video footage he shot with his drone. We enjoyed watching his slide show during the dinner.
Thanks to all the staff and volunteers with the Arts Council of Kern for putting together such a great event. And thank you to the people of Kern County for your warm welcome and for your appreciation and support of the art we produced in your beautiful area.