***UPDATE — HEAVY RAIN IN THE FORECAST, SO I AM RESCHEDULING FOR FRIDAY, FEBRUARY 1, 2019. SAME TIME AND LOCATION.***
Want to see first-hand what my plein air painting classes are all about? Join me for a FREE plein air painting demonstration!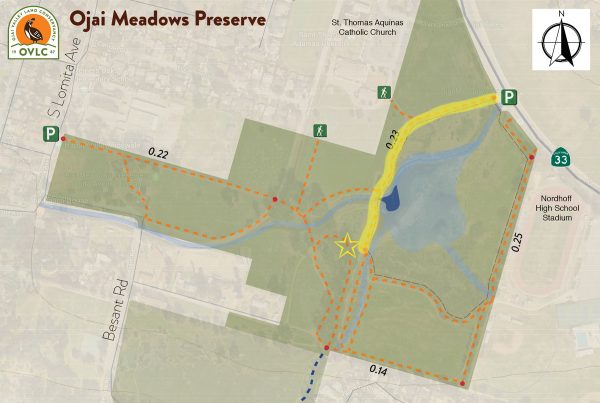 Location: Ojai, California's beautiful land conservancy site, the Ojai Meadows Preserve. (See map: follow the highlighted yellow trail from the parking on Hwy. 33 to the yellow star, where I will be set up to paint among the Eucalyptus trees.)
Click here for driving directions.
When: Saturday, February 2, 2019 Friday, February 1, 2019, from 8 – 11 am
I will demonstrate my plein air painting technique in oil and go over the supplies necessary for plein air painting. Bring a chair to sit and watch or bring your easel to do some painting yourself. If you enjoy the experience, register for my next plein air painting class which will begin the following Saturday (February 9). It could be muddy, so be prepared….
I hope you'll join me! Leave a comment below if you have any questions. I will update this page with weather information if necessary. ***UPDATED, SEE ABOVE***