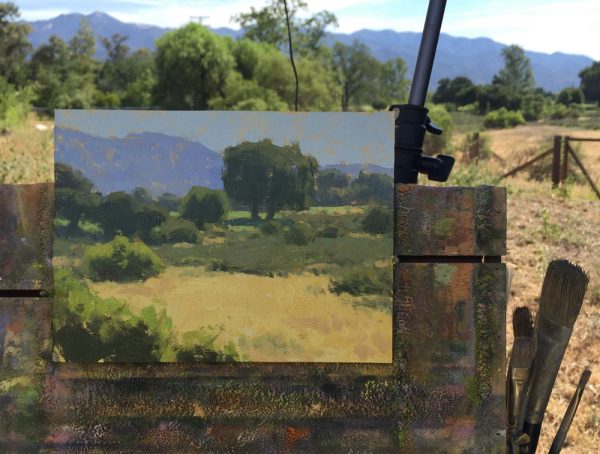 I recently had the privilege of painting at the nearby home of Brooke and Steve Giannetti. They're such nice people and quite a remarkable couple.
Steve is one of the most sought-after architects in California (website: Giannetti Home) and Brooke is an interior decorator and writer of the popular design blog Velvet and Linen, which was named as a top 10 design blog by the Washington Post. Brooke's and Steve's work has appeared in Veranda Magazine, Coastal Living, C Magazine, Romantic Homes, HGTV, New Old House, Rue Magazine, Red Book, Good Housekeeping, The New York Times and several regional publications. Their first book, Patina Style, was published in September 2011 by Gibbs Smith.
Steve has lately been wanting to spend some more time practicing outdoor painting and extended the invitation for us to paint together. Their goats and donkeys kept us company while we enjoyed the scenery on their beautiful property, which they call Patina Farm.
Steve and I hope to make this a regular thing, and I'm excited to further explore the views at Patina Farm.