When I visited the M. Graham factory in 2015, I learned some things about how oil paint is made. I also saw some color stability tests they had done comparing their walnut-oil-based colors to those of linseed-oil-based brands.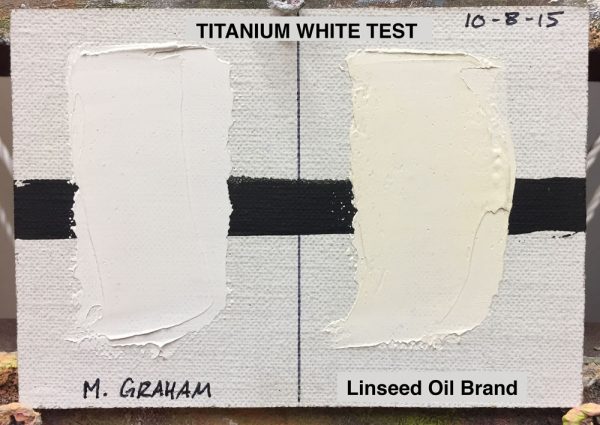 The results were surprising to me, making me consider for the first time that the expensive oil paint I was buying may not hold its true color over time. I mean, oil paint isn't cheap, right? I had assumed that color stability was a given with professional-grade oils. (I suspect that many, many other artists assume the same thing.)
The test results I saw at the M. Graham factory made me realize that I needed to do some color testing of my own.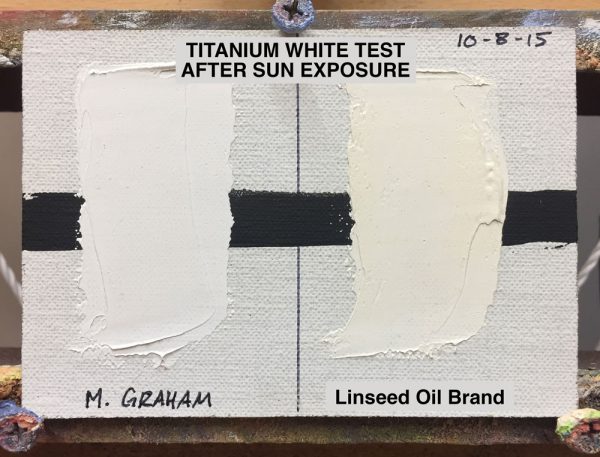 I first tested Titanium White. I compared walnut-oil-based M. Graham to a well-known linseed-oil-based brand. (Both are considered professional quality, not student-grade.)
The two whites looked identical when I laid down the swatches. However, after about two months I began to see significant yellowing of the linseed-oil-based white. It was alarming to me. In my work over the past several years, I've been exploring light-filled, close-value paintings that rely on subtle color and value shifts. The amount of color change I see in this test is worrisome, especially considering my high-key paintings. (See photos. NOTE: the screen you're using to view this post will affect the way the colors look. I did my best to match the white balance between the photos.)
I began to read up on linseed oil and found that other artists online have done white tests with similar results. Some artists say that if you expose yellowed linseed-oil-based paint to direct sunlight, the paint will return to its original color. I set my test swatches in a sunbeam for a few hours and the yellowing did fade quite a bit. But M. Graham's walnut-oil-based Titanium White still remained a truer white. And now after less than a month, the linseed-oil-based swatch is yellower again. Besides, direct sunlight is supposed to be harmful to artwork, right? Should we be expected to risk UV damage to our work in order to achieve truer colors? Doesn't seem like a good idea to me.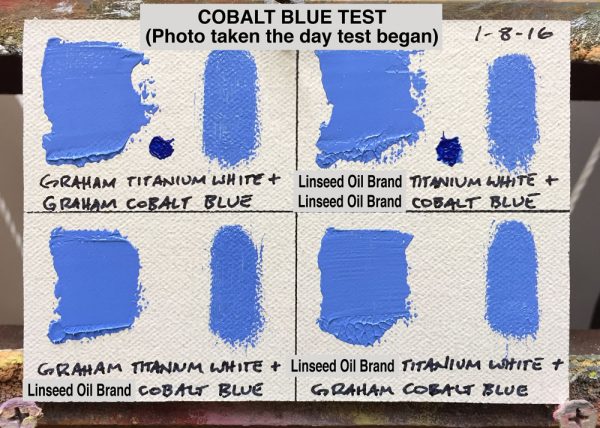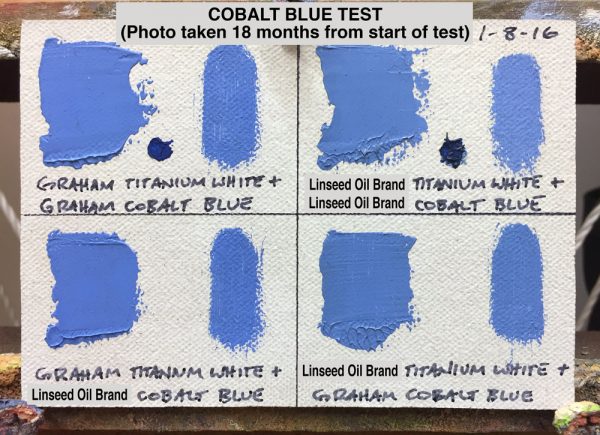 After my white test, I started tests with several other colors. After 18 months I can tell from the photos I took when I began the tests that both brands of paint have lost some of their original intensity. But so far, I'm not seeing much yellowing in either brand. (See photos of my Cobalt Blue test.)
For now, I'd say that the most important color to be careful of is white. I know I will definitely avoid linseed-oil-based whites from now on.
Discovering all of this makes me thankful that I've been using mostly M. Graham & Co. oils for several years now. To be clear, I don't get paid by M. Graham to say nice things about their paint. I just recognize the quality of what they produce and want to share my findings with you. In fact, I've recently begun testing color stability of a safflower-oil-based Titanium White from another brand. Safflower oil is also supposed to be non-yellowing. We'll see.
I hope this post has encouraged all of you to pay attention to the supplies you purchase. Don't assume that a high-priced brand of paint must be the best because it's so expensive. Do some research for yourself. And if you decide to start doing your own color tests, a word to the wise: it's kinda boring and takes a long time.