It's been more than three years since I first started testing my oil palette colors. My goal with these ongoing color stability tests is to find out to what degree the colors might change over time. If you read my previous post about the tests, you'll remember that my initial interest was in comparing the effects of walnut oil to that of linseed oil in artists' paint.
I know, I know. You're thinking how technical and boring this post sounds already. You may be right. Feel free to switch over to your Instagram feed to stay awake. 🙂
I've recently become a brand ambassador for M. Graham & Co. They are one of the few companies who make their oil paints with walnut oil. Most other brands use linseed oil. Some use safflower oil, but we'll save that for a possible future post. For now, we'll just focus on walnut oil vs. linseed oil. Two things to keep in mind:
Walnut oil doesn't yellow over time the way linseed oil does, meaning truer colors.
Walnut oil allows more pigment load than linseed oil, meaning colors with more tinting strength.
My Titanium White test from 2015 produced some relatively dramatic yellowing in the linseed oil brand. But so far the other colors I'm testing haven't changed much. However, I am seeing some slight darkening / graying of some of the colors in the tests. I'll include images of those and some descriptions below. Remember that when I initially laid down these colors on my test panels in 2016, I did my best to make the color swatches match each other visually. That way any changes over time would hopefully be apparent.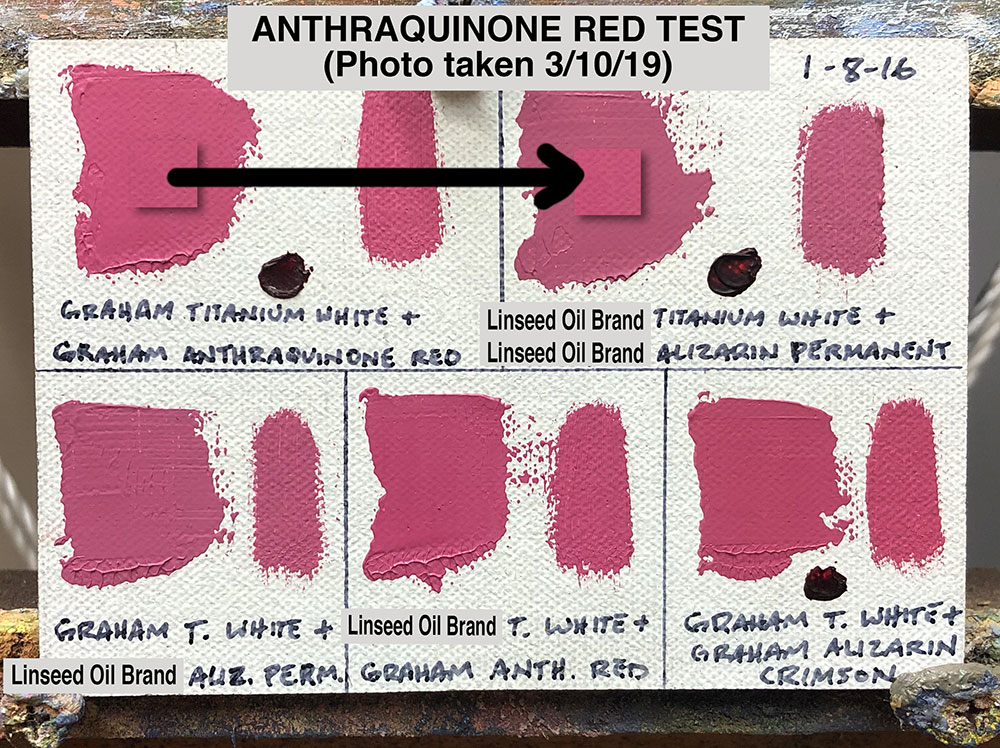 As you can see above, the biggest shift seems to be happening with the test of Anthraquinone Red (M. Graham walnut oil) vs. Alizarin Permanent (linseed oil brand). The linseed oil brand has definitely darkened and lost some saturation. But I happen to know that the particular brand I tested has changed the pigment they use to make that particular color in recent years so perhaps that affected its permanence.
Also on this particular color test, I decided to include a square of M. Graham's Alizarin Crimson. (In the lower right corner.) Of all the colors I tested, I expected this one to shift the most because of its lightfast rating of III. (A lightfast rating of I on a paint tube's label is considered to be the most lightfast.) Surprisingly, M. Graham's Alizarin Crimson doesn't seem to have changed color at all.
---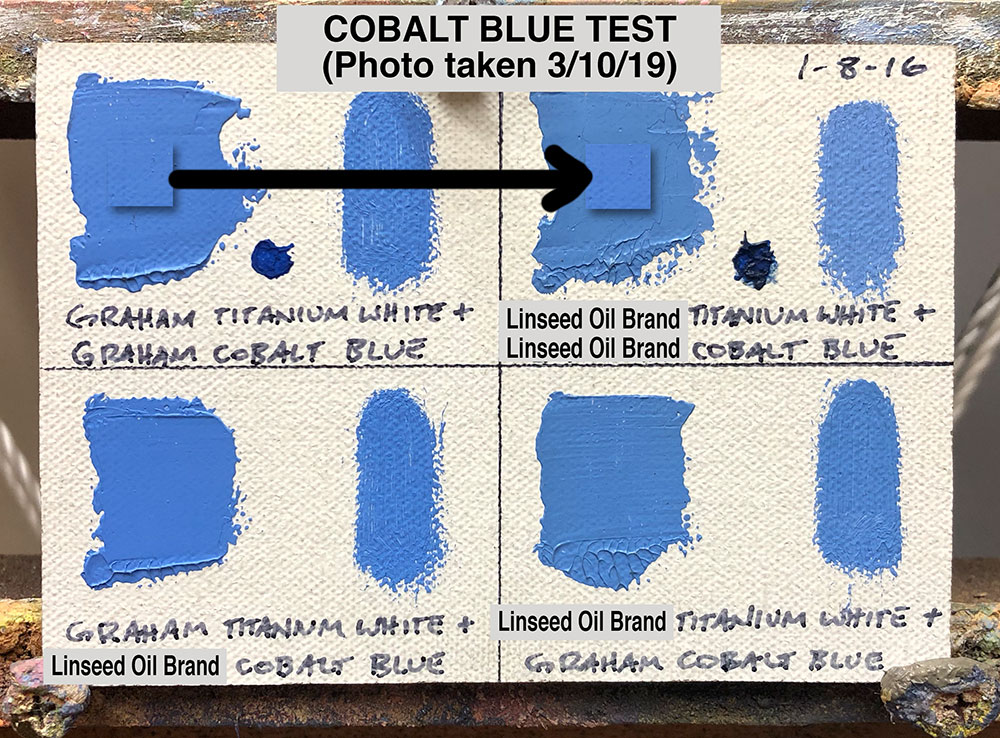 Cobalt Blue's color shift in the linseed oil brand is also noticeable. It has lost some saturation compared to M. Graham's version.
---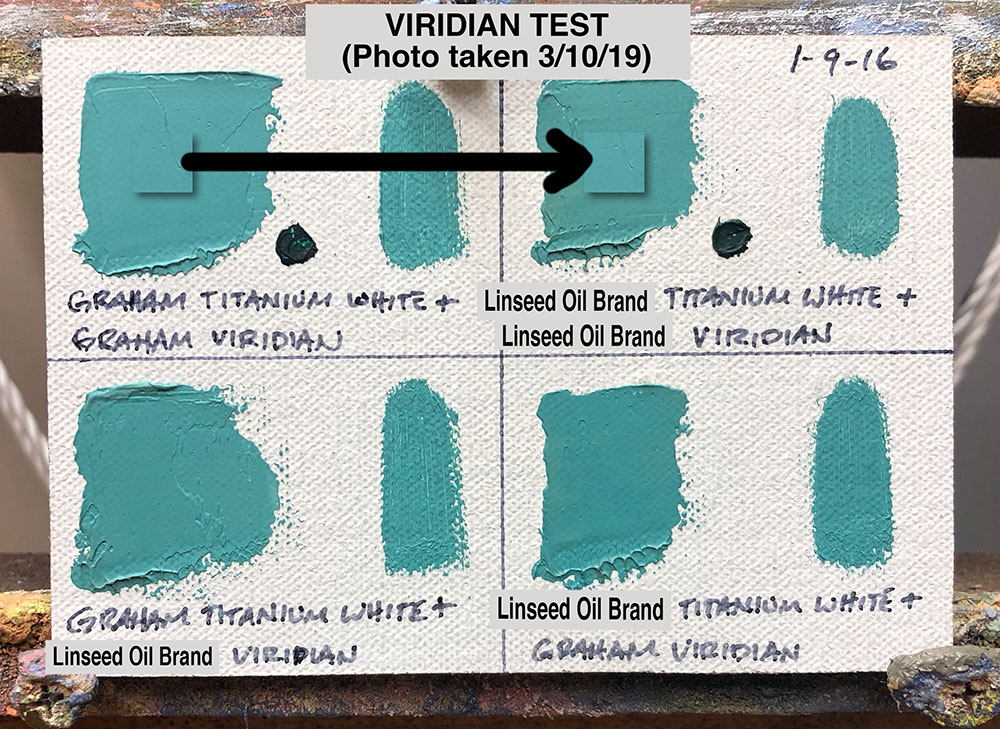 The linseed oil brand of Viridian has darkened slightly and yellowed a bit.
---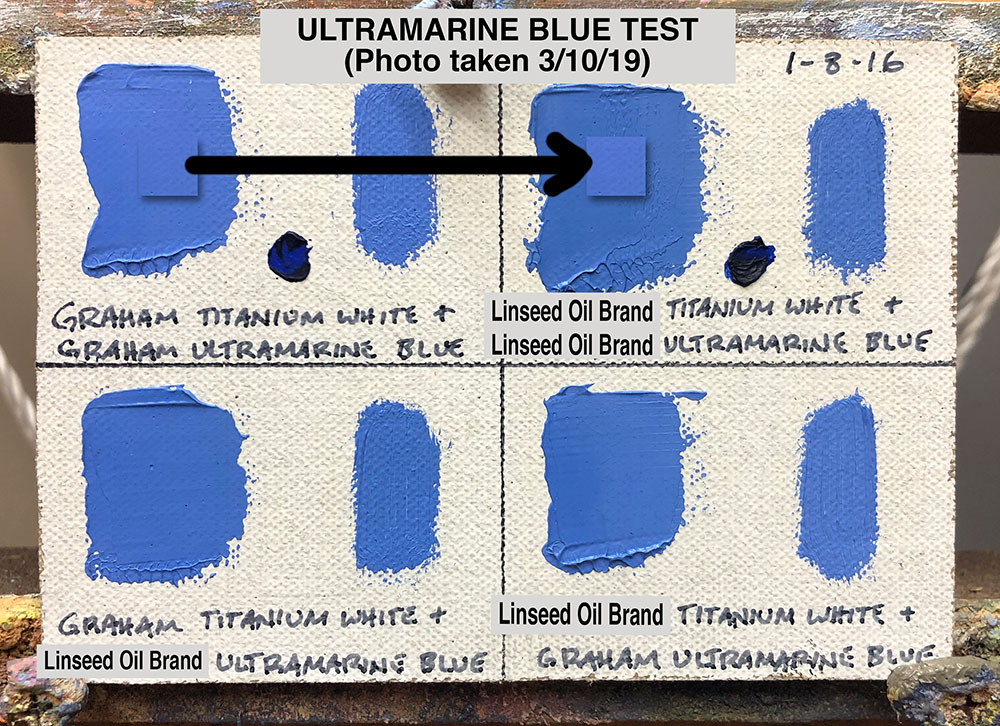 The Ultramarine Blue test is also showing signs of the linseed oil brand darkening a little over time compared to the M. Graham color.
---
So what does this mean?
Because of the results of my Titanium White test in 2015, I was worried that the addition of a linseed oil based Titanium White to my other palette colors would cause all the colors to yellow. Thankfully, as you can see, the changes are relatively slight at this point in the test. And the other colors I tested (not pictured) have shown even less noticeable change. (Cadmium Lemon, Yellow Ochre, Cadmium Orange, Transparent Oxide Red, Dioxazine Purple and Ivory Black.)
I would think that once any of these colors are mixed with others and applied to an actual painting, it would be almost impossible to discern any changes over time. But if my colors are going to be changing over time, I want to know about it if I can. And try to avoid it.
So far, the M. Graham & Co. oils seem to be lasting really well. I will keep an eye on them and let you know of any further changes in my ongoing color stability tests.