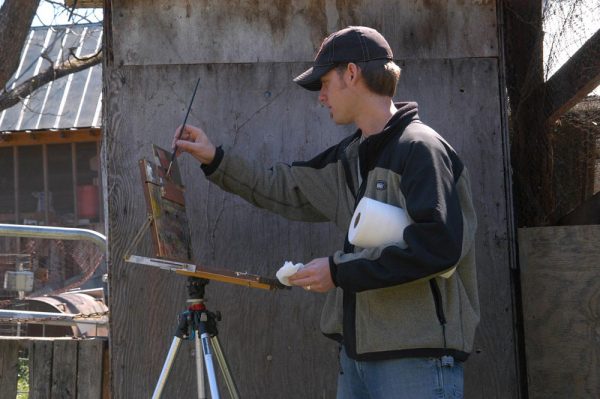 Updated July 26, 2023. Unfortunately, it appears that Open Box M is no longer in business. I don't know exactly why, but I certainly enjoyed recommending their pochade boxes for many years and continue to enjoy using my Open Box M equipment on my outdoor painting adventures.
I thought I'd share some information today about what I probably consider to be my favorite piece of painting equipment — my pochade box made by Open Box M. (See it in action in my instructional painting DVD Steps for Successful Plein Air Painting.)
While many of you are familiar with the term pochade box, some of you may wonder if I'm talking about a fancy juice box for the kids. Pochade is a French term that means "sketch", and a pochade box is a type of easel generally used for outdoor painting or painting en plein air (another French term meaning "in the open air"). A pochade box is similar to a French easel, but lighter and easier to transport. There are many different pochade boxes on the market these days, each with a unique design and functionality. Although I haven't had the chance to try very many of the others, I've been happy with my Open Box M (M Box) since day one.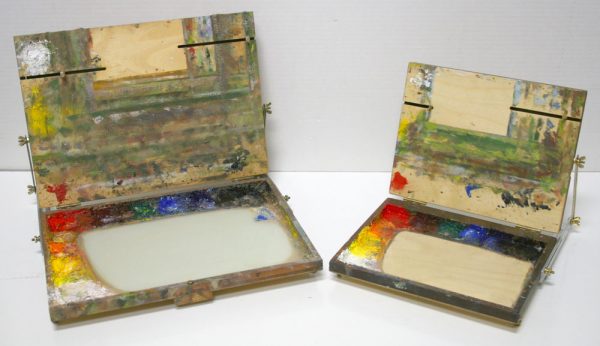 The advantages of the M Box in my opinion include the simple, compact design, the sturdy construction and the ability to carry wet panels. I'll go into more detail about the box below and how I've used it..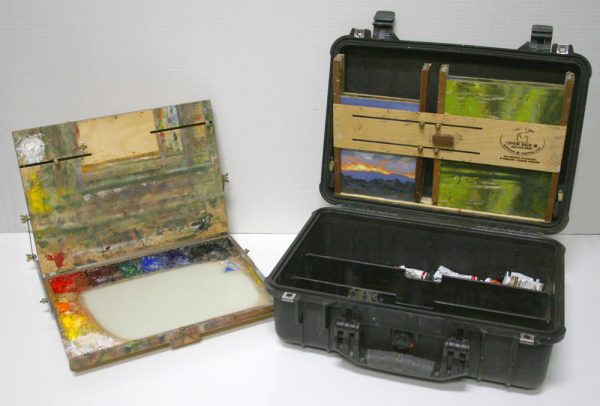 The M Box comes in several different sizes, but the first one I bought was the 11″ x 14″ size. I chose that size because it has a larger palette and allows for storage of wet panels up to 11″ x 14″. I more recently bought the 8″ x 10″ size as well so that I could have an even more compact and lightweight setup, but I still use the 11″ x 14″ size the most. I should add that the wet panel storage system is adjustable, which allows for storage of smaller panels as well. The slots are wide enough to accommodate two 1/8″ panels back to back, or one 1/4″ panel, and there are two slots. The maximum number of wet panels you could store at one time in the 11″ x 14″ box would be four 11″ x 14″ panels, or eight smaller panels (if you use the included divider).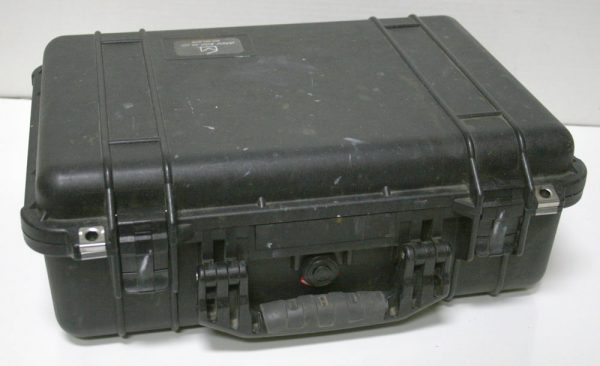 The outer box that came with my 11″ x 14″ set up (purchased in 2001) was a walnut wood box, which worked well through extensive use (even through painting trips to Spain and Mexico). But it eventually started to crack in one corner, so I upgraded to the Pelican case. The Pelican case is heavier than the walnut box, but it's also waterproof, crush proof and allows more storage than the walnut box. The palette/panel holder and wet panel storage system from that original setup continue to work flawlessly (even after use in rain, snow, frigid temperatures and high winds — the palette/panel holder has blown over a couple of times too, I'll admit).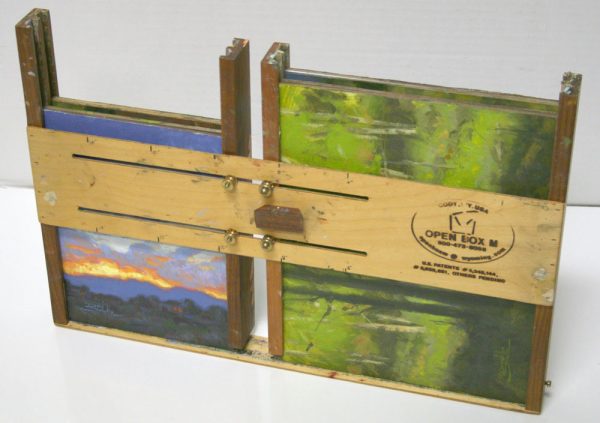 The palette/panel holder comes pre-drilled for attaching to a camera tripod (I'm currently using a Sirui T-2005X model tripod with a Manfrotto 3229 head (not pictured). I've found that the strength of the tripod head is critical to keeping any palette box steady during use. I also chose to insert a piece of glass on top of the palette to make it easier to clean. This adds some weight, but it allows me to use a razor blade to clean off any dried paint that accumulates.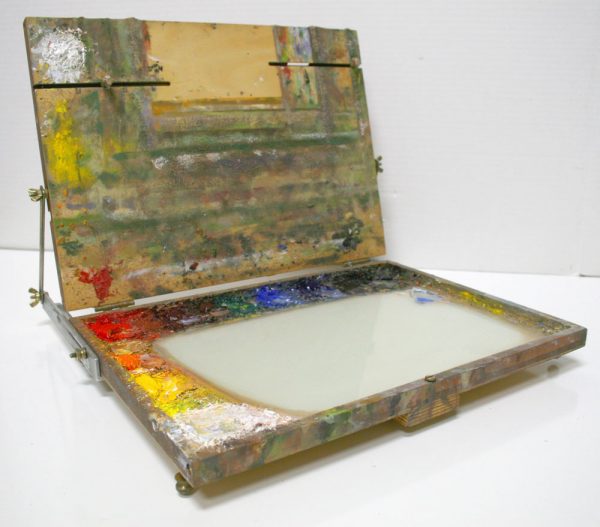 The spring-loaded design of the panel holder on the M Box allows a canvas panel to be easily placed into position in a simple, quick manner. The 11″ x 14″ size will hold a panel up to 20″ wide with its adjustable design. I tend to paint up to 12″ x 16″ or so outdoors, but most often work between 6″ x 8″ and 9″ x 12."
Another benefit of the M Box over some of the other pochade boxes on the market is that the palette/panel holder is quite light when attached to a tripod. Some other units incorporate extra storage for paint, brushes, etc. under the palette, which of course adds weight and results in a more wobbly and bouncy palette when attached to the tripod.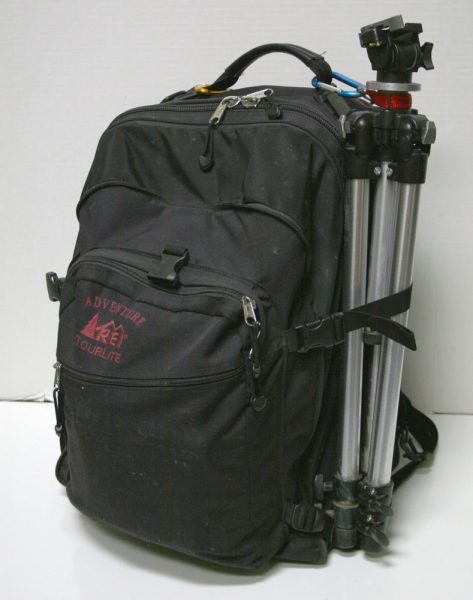 I can fit my entire set up for outdoor painting into one backpack — a great advantage when hiking to a remote painting spot while still having my hands free. When I pack up the whole 11″ x 14″ setup including the Pelican case, mineral spirits, paint, brushes, canvases, paper towels, rain jacket, hat, tripod and other odds and ends, the whole backpack weighs 32 lbs. (A bit heavy for long hikes.) If I leave the Pelican case behind, the set up is about 27 lbs. If I want to pack even lighter I can get the weight down to about 19 lbs. by taking my 8″ x 10″ setup with only a couple of canvas panels in a smaller backpack. I could even get it lighter by only taking a few tubes of paint, or by putting my colors onto my palette beforehand and leaving the tubes of paint behind. It's great to have several options to make the setup as light as I might need.
I've been so happy with the quality of the M Box that I consider it to have been a great investment. I recommend Open Box M products to anyone who is serious about outdoor painting.
What's your plein air easel of choice?